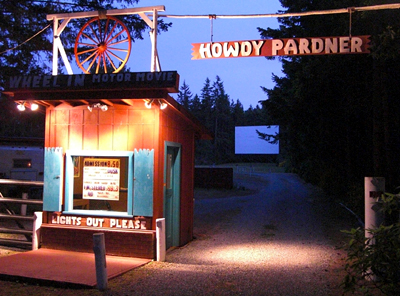 Welcome to The WHEEL-IN
CELEBRATING OUR 62nd ANNIVERSARY!
Operating since 1953, 1 of only 4 Drive-In Movie Theatres left in Washington State
FM Dolby Digital Stereo Sound and the Classic Drive-In Speakers! provided in the lot.
Come hungry and visit our snack bar, where you will find our friendly talented staff ready to complete your Drive-In experience
with our many fresh made to order items.
PIZZA - HAMBURGERS - HOT DOGS - NACHOS, and More!


NOW AVAILABLE!
WHEEL-IN MOTOR MOVIE LOGO T-SHIRTS
AND HOODED SWEATSHIRTS

GET YOUR OFFICIAL WHEEL-IN MOTOR MOVIE LOGO
T-SHIRT AND HOODED SWEATSHIRT THIS WEEK!
Available At The WHEEL-IN Concessions



210 THEATRE ROAD
PORT TOWNSEND WA
PHONE (360) 385-0859




Now Open!
Wednesday thru Sunday

Box office Opens - 7:00 p.m.
Show Time - Dusk (appx. 8:30)

Admission:
General - $9.00
Seniors 65 and Juniors 12 and under - $7.00
Under 6 - FREE

NOW PLAYING
Disney . PIXAR
INSIDE OUT (PG)
and
Sandra Bullock
MINIONS (PG)
and
Chris Pratt . Bryce Dallas Howard
JURASSIC WORLD (PG13)
Produced by STEVEN SPIELBERG

AN *ALL DIGITAL* PRESENTATION!

Labor Day Weekend "Greatest Hits of The Season"
TRIPLE FEATURE!
Disney . Pixar
INSIDE OUT (G)
MINIONS (PG)
JURASSIC WORLD (PG13)

*A Wheel-In Labor Day Weekend Tradition; Pancake and Sausage Breakfast Served between Late and Late Late Shows!