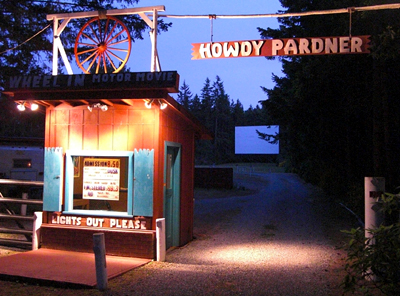 Welcome to The WHEEL-IN
CELEBRATING OUR 61st ANNIVERSARY!
Operating since 1953, 1 of only 4 Drive-In Movie Theatres left in Washington State
FM Dolby Digital Stereo Sound and the Classic Drive-In Speakers! provided in the lot.
Come hungry and visit our snack bar, where you will find our friendly talented staff ready to complete your Drive-In experience
with our many fresh made to order items.
PIZZA - HAMBURGERS - HOT DOGS - NACHOS, and More!


NOW AVAILABLE!
WHEEL-IN MOTOR MOVIE LOGO T-SHIRTS
AND HOODED SWEATSHIRTS

GET YOUR OFFICIAL WHEEL-IN MOTOR MOVIE LOGO
T-SHIRT AND HOODED SWEATSHIRT THIS WEEK!
Available At The WHEEL-IN or On Line.
(click on the links below to order!)


210 THEATRE ROAD
PORT TOWNSEND WA
PHONE (360)385-0859





* NOW OPEN - FRIDAY thru SUNDAY
BOX OFFICE OPENS: 7:15 p.m.
SHOW TIME: 8:00 p.m.

Admission:
General - $9.00
Seniors 65 and Juniors 12 and under - $7.00
Under 6 - FREE

NOW PLAYING!

DOLPHIN TALE 2 (PG)

and

THE HUNDRED-FOOT JOURNEY (PG)


AN *ALL DIGITAL* PRESENTATION!


"2nd SEASON" CONTINUES!
With These Great Coming Attractions!
COMING SOON To The WHEEL-IN!

Oct. 10 - 12: THE MAZE RUNNER
w/ GUARDIANS OF THE GALAXY (Final Encore Engagement)
Oct. 17 - 19: TBD
Oct. 24 - 26: TBD
Oct. 31 - Nov. 2: SPECIAL EVENT!
HALLOWEEN TRIPLE CREATURE FEATURE!
Concession Specials, Drawings, and Prizes
As we say good bye until next spring!