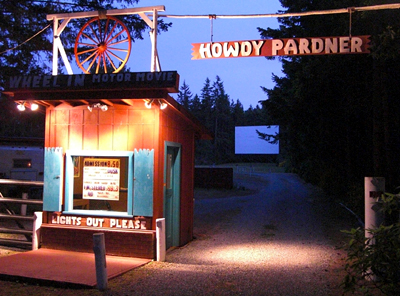 Welcome to The WHEEL-IN
CELEBRATING OUR 61st ANNIVERSARY!
Operating since 1953, 1 of only 4 Drive-In Movie Theatres left in Washington State
FM Dolby Digital Stereo Sound and the Classic Drive-In Speakers! provided in the lot.
Come hungry and visit our snack bar, where you will find our friendly talented staff ready to complete your Drive-In experience
with our many fresh made to order items.
PIZZA - HAMBURGERS - HOT DOGS - NACHOS, and More!


NOW AVAILABLE!
WHEEL-IN MOTOR MOVIE LOGO T-SHIRTS
AND HOODED SWEATSHIRTS

GET YOUR OFFICIAL WHEEL-IN MOTOR MOVIE LOGO
T-SHIRT AND HOODED SWEATSHIRT THIS WEEK!
Available At The WHEEL-IN or On Line.
(click on the links below to order!)


210 THEATRE ROAD
PORT TOWNSEND WA
PHONE (360)385-0859





* NOW OPEN - FRIDAY thru SUNDAY
BOX OFFICE OPENS: 7:15 p.m.
SHOW TIME: 8:00 p.m.

Admission:
General - $9.00
Seniors 65 and Juniors 12 and under - $7.00
Under 6 - FREE

only 2 weeks left!
NOW PLAYING!

DISNEY'S
ALEXANDER AND THE TERRIBLE, HORRIBLE, NO GOOD,
VERY BAD DAY (PG)

and

From The Creators of CORALINE
THE BOXTROLLS (PG)


AN *ALL DIGITAL* PRESENTATION!


NEXT WEEK!
We wrap up the 2014 Season with our 1st annual
HALLOWEEN WEEKEND
TRIPLE CREATURE FEATURE!

1st Feature: THE BRIDE OF FRANKENSTEIN (I935 Original)
2nd Feature: ATTACK OF THE 50 FT. WOMAN (1958 Original)
and
3rd Feature: (The Late Show)
CREATURE FROM THE BLACK LAGOON! (1954 Original)

ALL TICKETS $7
Costume Contest! Drawing, Prizes and Special Halloween Concession Treats!